Don't miss an issue!
Join our mailing list to be notified
as soon as each new issue comes out - plus get access via Dropbox!

Download this issue FREE!
For the best reading experience, access via computer or laptop. This magazine's PDF format and large file size (15-20MB) may not be suitable for cell phones or tablets.

Get it in Print!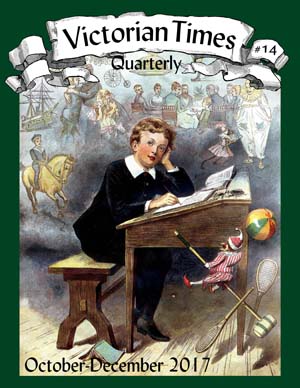 Get the October-December issues in
Victorian Times Quarterly #14
Available from:
Amazon.com, Amazon.co.uk, Amazon.ca
The Ark of the Jamrachs (CFM, 1895)

"It used to be said of 'Old Jamrach' that if an animal, no matter how rare, existed on this globe, he could get a specimen... Associated with the name of Jamrach are rare stories as well as rare animals."

London Sixty Years Ago (CFM, 1893)

A look at life in London of the 1830's, based on sketches by a German visitor.

What to Do With Our Autumn Gatherings (Ingalls' Home Magazine, 1889)

A number of creative uses for autumn leaves, grasses and other gatherings.

Afternoon Tea (CFM, 1889)

German honey cakes and chestnut pyramids are just two of the delectable recipes provided for an afternoon's entertaining.

Some Neglected Articles of Food (CFM, 1877)

A look at some American foods, such as "mush," Indian meal pudding, ginger-cake, hoe-cake, and various recipes for the pumpkin.

Some Curious Payments for Land (CFM, 1884)

In Britain, the Crown giveth and the Crown taketh away, so "land ownership" is a rather flexible term. Many land-holders retained their titles through certain gifts to the Crown, such as an iron arrow, gloves, gloves plus a pound of cummin seed and a steel needle, dogs, birds, roses and even gilly-flowers!

Household Routine (GOP, 1895)

A brief schedule for the day, plus a list of tasks for the days of the week (e.g., Monday night: "Rub up all the brass things and candle sticks").

Our Belongings: The Mothers (CFM, 1895)

"An admirable race we hold them--much-enduring, tactful, loving, unselfish, with busy lives, and often aching hearts, but happy because sure of the niche in life that belongs to them."

Some Continental Recipes for Cooking Vegetables (GOP, 1902)

German recipes for cabbage, turnips, asparagus and more.

Fuzzles: The Story of a Puppy (CFM, 1894)

"You really haven't the audacity to call that a dog! It's more like Berlin wool-work than anything else!"

Thirty Years in Journalism (Demorest, 1886)

Jenny June describes her career as a journalist, which began in the 1850's and spanned the period of the Civil War.

Moorland Idylls: Our Winged House-Fellows (English Illustrated Magazine, 1895)

Grant Allen describes sharing his moorland home with swallows and swifts.

Preventable Worries (GOP, 1897)

How good handwriting can save many miseries.

November (CFM, 1875)

A monthly series on the seasons in the English countryside - the birds, beasts, and flowers to be seen, along with tips on what to do in the garden, and natural history notes.

Things in Season, in Market and Kitchen (GOP, 1899)

Suggested menu for the month, based on what is to be found in the market, and what is appropriate for the weather.

Poetry

The Pumpkin
A Thanksgiving Hymn