Don't miss an issue!
Join our mailing list to be notified
as soon as each new issue comes out - plus get access via Dropbox!
Get it in Print!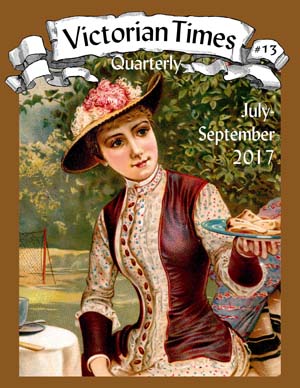 Get the July-September issues in
Victorian Times Quarterly #13
Coming in September 2017
A London Cemetery for Dogs (The Strand, 1893)

The final resting place for some Victorian "best friends."

Carriages Without Horses (CFM, 1896)

Imagine... vehicles upon the roadways without horses... Horseless carriages... Will they ever catch on?

Oxford at Home (The Strand, 1895)

A look at the sometimes wild social life at Oxford University.

Paddle Your Own Canoe (Demorest, 1888)

Canoeing on the Hudson River, a favorite summer pastime for New York ladies!

Our Belongings: The Little Ones (CFM, 1892)

First in a series about the lives and roles of various family members.

Bread and Cakes (GOP, 1899)

Delicious recipes for such treats as gingerbread, scones, citron buns, rock cakes, chocolate cake, plum cake and Roscommon loaf.

Swedish Embroidery (GOP, 1901)

Artist Fred Miller brings us examples of a new and elegant embroidery form.

Fashionable Stationery (Demorest, 1880)

How to select appropriate letterhead, envelopes, notecards, menu cards, birthday cards, visiting cards, and stationery for specific occasions such as mourning.

Our Friends the Servants, Parts 1 & 2 (GOP, 1893)

A six-part series on understanding and managing the all-essential staff of the Victorian home.

July (CFM, 1875)

A monthly series on the seasons in the English countryside - the birds, beasts, and flowers to be seen, along with tips on what to do in the garden, and natural history notes. This is the time of year to begin observing Britain's wildlife, including wild cats, martens, otters, weasels, stoats, foxes, badgers and polecats.

Precious Stones: Their Homes, Histories and Influence (GOP, 1894)

An eight-part series on the lore and history of precious stones. For July: The Turquoise & The Cat's-Eye

Lamps of All Kinds and Times (The Strand, 1894)

Pictorial feature.

Fiction: The Lady, or the Tiger?, by Frank Stockton (Century, 1883)

We can't resist reprinting this all-time classic, followed by a poem that suggests a clever solution to the conundrum.

Odds and Ends (GOP, 1898)

A fascinating round-up of news, notes and trivia from around the Victorian world.

Poetry

The Lady, or the Tiger, or Both?